The HOSA Mission
Marguerite Bagwell, lead HOSA's Advisor, makes a difference by touching the emotional and physical needs of the HOSA members she encounters. Not just in the classroom, but daily with everyone she meets. This can be seen with her work as a volunteer with Brazoria County Homeland Preparedness Project, her assistance with prison services, and her efforts to educate the community about mental illness by volunteering at the local National Alliance on Mental Illness (NAMI).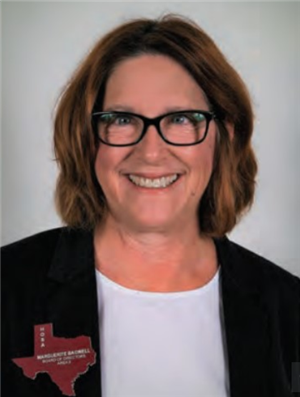 HOSA's mission is to promote career opportunities in the healthcare industry and to enhance the delivery of quality health care to all people.
HOSA stands for Health Occupations Students of America. It provides a unique program of leadership development, motivation, and recognition for any students enrolled in health science education or who have an interest in pursuing careers in health professions.
The HOSA Hall Of Fame was created to honor and recognize individuals and companies who have rendered an outstanding service to HOSA, such as health, biomedical science education, and the health industry.
Recently Bagwell has been working with her local NAMI Gulf Coast Chapter to help spread the word about the need for support of those suffering mental illness, especially high school students. She has brought suicide prevention awareness into Alvin High School, helped the homeless, many of them suffer from mental illness, at a local soup kitchen. These actions can make Alvin High School HOSA chapter and the community a safer place.
"HOSA is an organization for students interested in health care," Bagwell said. "As an advisor, I try to facilitate opportunities for students to learn more about health issues affecting our community. Most teachers, including me, are NOT trained counselors, so I would never presume to do what counselors know. That being said, students can always come talk to us and we can help them go to the counselor and even stay with them for support if they want. I will have to say that if students need urgent help, they should always go to a qualified counselor. We are not allowed to recommend a particular therapist, but there are organizations such as NAMI, that have resource books that have several places a family can explore. Please keep in mind, that minors usually cannot be treated without permission from their guardian or parent. There are several techniques that a therapist can help someone with. Again, the student should be evaluated by a professional that can help with the steps to do these techniques. Some methods include yoga, meditation, deep breathing, exercise, visualization, pet therapy and more," said Bagwell.