AV Students Pilot Football Film Program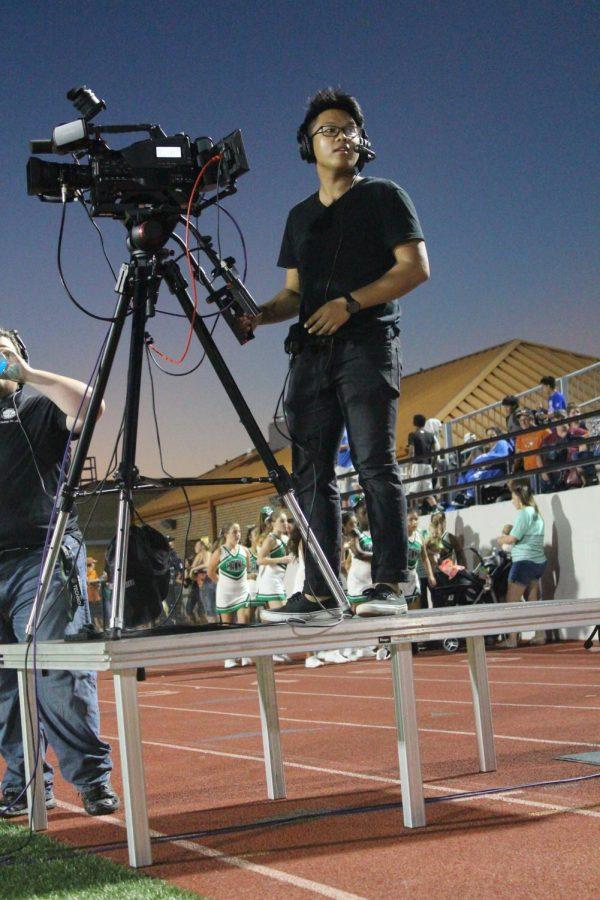 The Alvin Yellowjacket audio/visual program, for the first time, is recording all home football games this season for Alvin, Manvel, and Shadow Creek, with teacher Hampton Fox overseeing this pilot program
Fox and his crew, including seniors Caden Kaiser, Patrick Chhuoey, Moses Barron,   junior Siah Bowser and sophomore Juan Pinon, are the hard working individuals who come early and stay late to film each game.
"The AV program is a huge benefit for our school because we are able to produce news shows, coach shows, and student films for the school and contest," Fox said.
Although filming and setting up equipment can be entertaining, it is crucial that things are done safely and correctly in order to achieve the best possible film. They also produce short films in class, and have a weekly Coaches Show where they interview coaches to cover Jacket Sports. Fox attests to his students professionalism and work ethic.
"In our program safety comes first, we always stay organized, contribute creativity, meet deadlines, and work as a team," Fox said.
The AV team stay dedicated and focused because creating an exceptional film is their main goal, they say
"I've learned just how stressful the filming industry can be, after school we contribute 10 to 15 hours a week in order to ensure everything is correct," Kaiser said.